Click here to email AFE






Video Detection Systems (VFDS)
GKB VFD System


The GKB - VFD FM approved system can detect smoke and flame fast through a highly sensitive, proprietary image analytics. Relying on visual detection of smoke and flame means the VFD is well suited to detection in large open-space areas and over longer distances, where traditional smoke and fire alarms systems are incapable of detection.
Once fire is detected, the VFD system signals detection via an on-screen display notification, triggers alarms via output relays and has the ability to send a short-message-service (SMS) alert to mobile phones. In order to prevent alarm failures, the VFD system also sends notification if a loss of video signal is detected. In such cases, the notification remains active as long as the problem is
still present.
A VFD server can support up to 8 video cameras and is capable of combining further units (up to 16) by utilizing the VFD console server which provides for a fully automated fire detection system of up to 128 video cameras.
Each server display provides up to 8 video feeds from different camera locations providing the operator with important visual verification of incidents and valuable information on the status of the system.
The benefits of a GKB - VFD system is the ease of integration, operation & maintenance.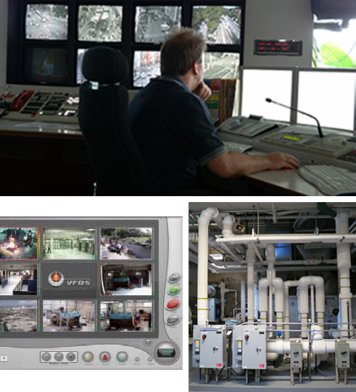 About VFDS
VFDS is now firmly established worldwide as making a major contribution to improve fire safety. It is used extensively in areas that have traditionally been the most challenging for fire safety professionals (such as large voluminous areas) to provide the earliest possible detection of fire.
VFDS ensures fast detection of a fire incident at its source, with the incident visible to the user enabling appropriate action to be taken in the shortest possible time. The technology, which has been developed over many years, can utilise standard CCTV cameras (usually existing CCTV security installations) and is an extremely cost effective solution.
Installations can now be monitored remotely using internet capable devices allowing 24 hour monitoring from around the globe and 24 hour a day fast response, remote testing and diagnosis of the system, whilst also ensuring easier integration with security and facilities management systems.
Why VFDS is needed?
Video Fire Detection systems biggest advantage is that it detects fire at the source, whatever the camera can see the system can detect.
In the case of large voluminous areas thermal barrier and stratification are the two biggest causes of conventional detection systems missing alarms.